First Fridays in the Park 2019
Starts this Friday, June 6 at 5:30 pm
Brian Jirka and the Cabby Band will blend their stylish creations of pop, rock and soul into a unique experience for the whole family when they kick off the Murphys Community Club's popular First Fridays in the Park series on Friday, June 7, 5:30 pm.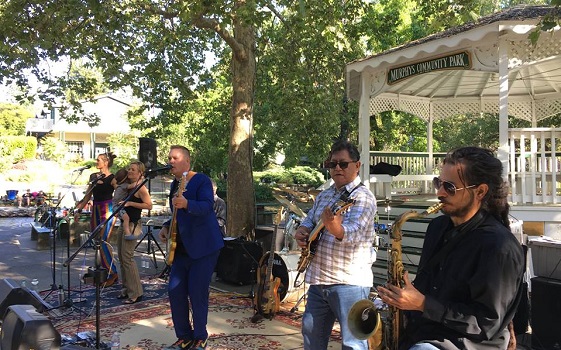 From June to September, First Fridays in the Park will feature performances by a variety of musical groups playing in the familiar gazebo starting at 5:30 p.m. Friends and neighbors are encouraged to bring lawn chairs or blankets and enjoy a small town America gathering in the cool confines of Murphys Community Park. The park's Alcoholic Beverage Control (ABC) license prohibits the bringing of wine or liquor into the park but wine and beer will be available to purchase with the proceeds going to the Murphys Community Club. . Each event will have a community sponsor. Murphys Pour House and Murphys Irish Pub are the June sponsors.
Beginning at 4 p.m. music lovers can purchase food from two food trucks. Lorenzo Neto and his Food Shack sells hamburgers, burritos, salads and more. Mary's Taco Truck offers a variety of Latin favorites. There will be a featured local wine, beer and other beverages for sale at "The Hut". All proceeds will go to maintaining and improving the park.
There is no admission charge and ample free parking is available nearby. Donations to help maintain the park are always gratefully received.
The featured bands for the rest of the First Fridays series are: July 5, Two Hoots and a Holler; August 2, The Iconics; September 6, Leilani and the Distractions.
The park will also be the site for the Calaveras Arts Council's Wednesday, August 7 Music in the Parks performance featuring Cantamos, starting at 6:30 p.m.
Murphys Community Park is located on Algiers St. in historic downtown Murphys. Membership in the Murphys Community Club is open to everyone and contributions are tax deductible. For further information, call 209-728-8093.